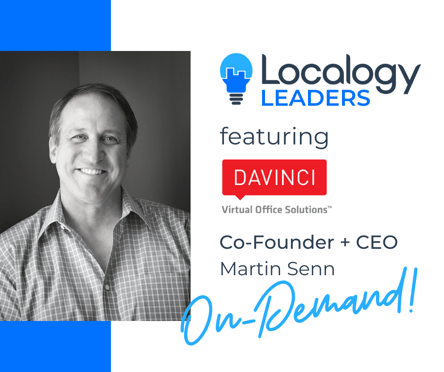 Has COVID-19 changed WFH and small businesses as we know it?
Martin Senn, CEO and Co-Founder of Davinci Virtual Office Solutions, says yes.
Started in 2006, Davinci saw firsthand how big events like the 2008 recession are accelerators for change, and like everyone else, is seeing it again with COVID-19. Though they once catered to entrepreneurs trying to minimize overhead expenses, today their 50,000+ clients include everyone from plumbers to law firms to bigwigs like Costco.
The reason (beyond the obvious) is simple—everyone wants to cut overhead and create a better work-life balance while still maintaining professionalism, and now, the shifting culture and available technology are making all of it possible. Senn predicts that services like virtual offices, live receptionists, subscription office and conference room rentals aren't just on the the rise for now—they're on the rise for good.
ABOUT MARTIN SENN:
Martin has been enjoying the creation and successful execution of many technology and service related ventures over the past 25 years. He is very passionate about building businesses from the ground up by leveraging cutting edge technologies, innovation and smart, driven people. Martin currently leads all business operations at Davinci Virtual Office Solutions. He credits his international upbringing and Swiss approach for many of his successes. Stress relievers include skiing, tennis, mountain biking and blue oceans.