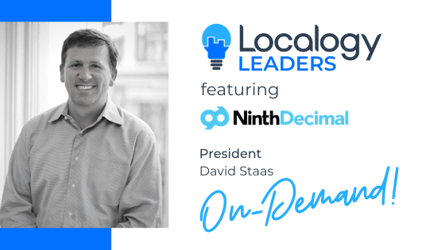 Join Host Michael Boland in conversation with NinthDecimal President David Staas as they explore Location Intelligence done right. Learn how on-the-ground consumer behavior can not only inform marketing strategies, but an expanding list of other operational functions - from logistics and supply chain, to hedge fund investing.



ABOUT NINTHDECIMAL:

NinthDecimal, the leading omni-channel marketing platform powered by offline behavior, helps the world's leading brands grow their customer base and revenues. By connecting offline behavior to what marketers already know about their customers, we are able to create a complete view of the customer. Whether acquiring new customers, retaining existing customers, or getting them to visit more and buy more, the 9D Marketing platform powers customized brand growth strategies through Audience, Insights, Measurement, and Media solutions, deployed across all marketing channels.
NinthDecimal's AIM product suite is powered by its proprietary 9D engine, the largest real-time engine of consumer behavior. It's fueled by more than 90M U.S. consumers seen in almost 8 billion locations per day.