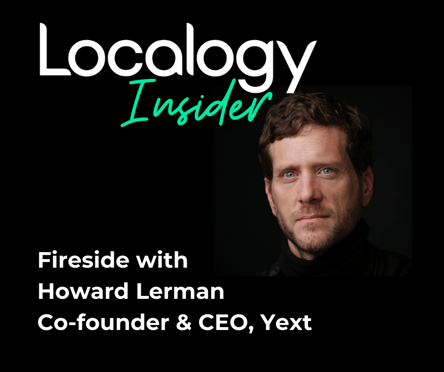 "When websites keep failing you and failing you over and over again, you learn to just start your customer journey on Google."
Local businesses need a modern search experience if they want to compete with other local businesses -- as well as big brands happy to steal their customers away. People are online more than ever, asking new and different questions about local businesses every day -- and they expect accurate, up-to-date answers. But far too often those questions are left unanswered because of an outdated or entirely absent search experience.
Join Localogy for a special interview with Yext Cofounder & CEO, Howard Lerman, to learn about the next big thing in search for SMB: direct answers. When a local business powers their website with Yext Answers, they can understand complex questions in natural language and return direct answers.
ABOUT HOWARD LERMAN:
Howard Lerman founded Yext in 2006 on the principle that the ultimate authority on a business should be the business itself. Since then Howard has developed Yext into an innovative, global brand that can live up to that principle.


*By submitting this form, you agree to receive communications from Localogy and it's guest YEXT. You can unsubscribe at any time. For more information about how we use your personal information, please review our
privacy policy.
Yext may process your personal data as described in
Yext's Privacy Policy
.*